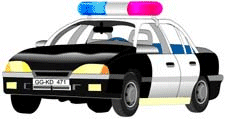 PC Yeoh writes Wednesday, 20, February 2002:
Pagar depan berkunci ……OK
Lampu dipasang …………OK
Tingkap ditutup …………OK
This looks like a checklist that is used in any situation where we cannot afford a mistake for sloppiness. That was what I found out from the 3 'borang lawatan polis' upon my return from the Pearl of the Orient, after a 8-day break. I should say that Penang is no longer a pearl looking at the chaotic traffic jams and the exorbitant food prices – well that is a different matter altogether.
But, it is rather very touching to know that, while I was 'yamsenging' away, the police came, not once but 3 times on different days, to my house to make a checklist that all was well at , , and . I could afford to smile when I saw one notation on the list, although it was not required by the form, saying 'Halaman rumah cantik'. He would have added, 'Pembantu rumah pun lawak' if she had been around!
In one of the 'borang', it was even stated that a car with a registration NBC 7897, which happens to be my good neighbour's, was parked at my gate. With the 'borang' in my hand, I 'confronted' my neighbour and asked him why his car was parked at my gate. He was utterly surprised how the heck I knew about it. When I told him that it was the Polis who informed me, he must be in a state of disbelief. 'When did our Polis force start to become so intimate with the rakyat?', he must have wondered. To prove it, I then showed him the form. There and then he realised that it was part and parcel of the service rendered to those who participated in the Kempen Rumah Selamat Semasa Bercuti.
"Aisay man," he commented, " the next time I balik Taliban……er er Seremban, I will register with them", he said quivering. But when I interrupted him saying "Hello friend, ini bukan tiap tiap hari punya kempen", he commented "Oh...how I wish it is." I then consoled him that if he wanted to, I could be his eyes and ears for him whenever he went on a journey. That reassurance immediately brought a sparkle back to his eyes. What are good neighbours for? But I could not gather enough courage to tell him that I actually gave his name and contact number to the Polis as this was one of the information required when I registered using the USJ18 NWatch weblink. If there was something wrong with the security of my house, the Polis would sought his assistance. If he knew that, he will ketuk my head and said "Eh eh…ini sudah lebih" or in plain English "stretching my luck too farrrrrr."
This kempen is a very good idea mooted by the OCPD of Shah Alam, ACP Hussin Ismail under which the whole of USJ falls under his administration. But, the duty officers, I understand from the note, came from the USJ 8 Pondok Polis. Whatever it is, it sure provides me the peace of mind and I can leave my home with it.
PS: Since the policemen who dropped by left their hand phone numbers behind, I immediately called all of them not so much to say 'Hey, I am back' but more so to thank them for the great job they have been doing. Just like anybody else, they replied 'Sama sama'. It was nice to hear that after a grueling 6 hours journey what it normally took 3 ˝ hours or 2 ˝ hours if you are prepared to get a 'saman'.