Accident near Petronas Gas Valve Station
USJ23 Neighbourhood
---
06/07/2001 - Accident about 200 metres from the Petronas Gas Valve Station (260 KP 202)
Read Reports of Gas Pipeline Accidents at the end of this page.
| | |
| --- | --- |
| | What's that Cityliner Bus doing in the grass area? A teh-tarik break maybe? but then we do not have a mamak store there. |
| | On closer examination, we notice that a few glass panels on the bus are broken and the front portion of the bus (hidden by the grass) is damaged. |
| | We can now see that the back panel of the Bus has been ripped off and also that the front of the bus is quite badly damaged. But what is it doing there? (The infamous Granite Quarry acts as a backdrop) |
| | We spot some debris left behind by the bus on the road kerb, notice the flattened fencing and the sunken grass trail to where the bus is finally resting. |
| | Goodness gracious, look at the direction of the bus (it's against traffic flow) Did it do a dash from across the other side of the LDP? Was anyone seriously hurt? |
Question : What if the Bus had crashed a few hundred metres down the road on top of this, which is just next to USJ 23?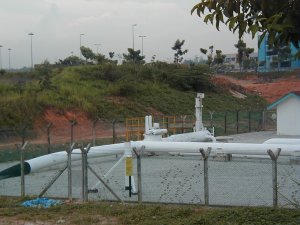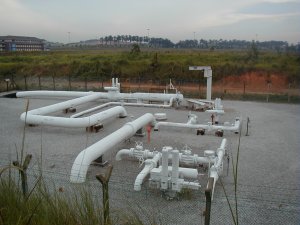 ---
Deadly Pipeline accidents
Read about the latest accident that took place on 20th August 2000 in New Mexico where 11 people died
Source - BBC News Online.
Read detailed reports of more than 100 Pipeline Accidents in the United States since1969 to 2000
Source - National Transportation Safety Board.
Read a short summary of these reports
Source - The Bellingham Herald, Whatcom County
(To return to this page after you have read any of the reports please use your "back" button)
---